Home Additions Franklin Indiana
Home Additions or room additions are often the best option for an Indiana family who just needs a little more space but doesn't want to move to another neighborhood. A well built and finished home addition will not only provide more space but you'll also get a lot more enjoyment and use out of your home, including better resale value in the future allowing you to recoup some of that investment.
Maybe you're expecting another child and it's time to add another room, or maybe you have an elderly family member who will be moving in and you'd like to build them a separate living area. If you want to, we can even add an entire new story to your home, which would double your single level living space without taking up more space on your property. (Yes we can do this!)
Whatever your reasons for a home addition, we can help you plan it out, design, and then build it.
BC Construction will assist you in every phase of your home addition project, from drawing up the plans and perfecting the design with your input to pulling out all of the local building permits, all the way through construction and then a final reveal. We will carefully plan and schedule every phase of your project, working directly with you the customer to ensure 100 % customer satisfaction. You will be thrilled with the work we do, it's why we're still in business!
With complete home additions, there is usually exterior construction involved, you may need a new foundation for the addition. You will need to have roofing, siding, painting, electrical, plumbing and the entire gambit of building trades working on your project. We can provide all of the services you'll need, from one place, with one company.
The inconvenience of adding on an addition to your home isn't the most appealing for any homeowner but we'll bend over backwards to make sure you're happy and comfortable during your project and we guarantee you'll be happy about the final results. Adding additional living space to your home is an exciting process with a reward you'll enjoy for many years to come.
Home Additions in Franklin, Indiana
Home Offices
Attached Shops and Garages
Rental Suite Additions
In-Law Suite Additions
Home Fitness Rooms
Home Theater Rooms
Games Rooms
Adding 2nd Level To Single Level Homes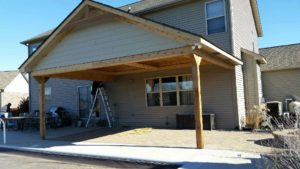 Transforming your current home into your dream home is what Home Additions do best. Your new addition will improve your quality of life and make your home more enjoyable. Not only that, but a professional addition can make a big positive impact on the resale value of your home, too.